Administrator
Stormhaven Studios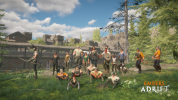 Heya friends!
Greetings and welcome to our forums,
This is a little guide to get you started with useful information and resources to help you make this place your own.
LOOKING TO KNOW MORE ABOUT EMBERS ADRIFT

​

We do have several videos that cover the basics of our game on our channels or some community members. Check them out on Youtube

If you prefer reading over watching videos, check out

this very complete interview on MMORPG.com

that explains our history, our goals, our design philosophy and what has already been accomplished.

Important thread, updated every week by

@Undone

:

WORK IN PROGRESS, roadmap

FOLLOW US

Twitter Facebook Youtube Reddit
GET TO KNOW OUR COMMUNITY

​
Our community is very active on Discord! Consider joining our Discord server for everyday chat with the alpha/beta testers, our community, and the dev team.
We have Community Meetings on Discord Voice chat, every Wednesday at 9pm CT (thu 3am CET) and every Thursday at 2pm CT (9pm CET)
We do have international forums and channels on Discord for our German, French and Spanish communities. We are ready to extend it to more languages if requested. We are organizing, communicating and moderating to the best of our capacity and with the help of Google Translate. Please be forgiving with language mistakes!
Feel free to introduce yourself on our forums and share about your currently played games here.
TWITCH TV & YOUTUBE

​
You can find our community on Twitch and Youtube! This are some of our regular Embers Adrift content creator
(List will be continusly edited - last update April 2023)
- And obviously, you can follow me at
https://www.twitch.tv/elloawendy/about
Every Tuesday, I host a Embers Adrift Community Show, starting at 6pm CET/11am CT during the maintenance. We discuss patch notes, community news and I often have a special guest!
I stream Embers Adrift every Tuesday, Wednesday and Thursday
GET STARTED AS PLAYER
Be sure to use the /Report command for fast feedback and bug reports. This sends a direct message to a Slack channel warning all of the dev team.
Use the LFG tool (default keybind: O) to set up groups or the World channel to reach out to players across all zones. Use the Trade channel to trade with other players
Embers Adrift can absolutely be played solo, but truly shines with a group. If you are a more social, less shy player, we are encouraging you to take a leader role and set up groups for players that are more timid and do not dare to seek groups! It's a great way to encourage the community to bond, and players to get used to socializing in game, something we have lost over the years with heavily solo focused games.


I hope this little guide gets you started well! Embers Adrift main goal is to bring players together and allow them to bond and experience memorable adventures with friends! Let's have fun together starting Here and Now.


Elloa
Updated April 2023
Last edited: