Administrator
Stormhaven Studios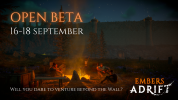 Welcome to all our new testers! Welcome back to all our returning Alpha and Beta testers!
Thank you so much for joining our game! Thank you for testing our game! I truly hope that you are going to have much fun and enjoyment playing our game!
To all of you who are new to Embers Adrift, a few words to get you started most comfortably!
- You are most welcome on our
DISCORD server.
We have organized a few channels for your use, including voice chat that you are free to use to hangout with your friends
If you are speaking German, French or Spanish, we do have international channels for you.
- Have a read on this thread that will give you much informations to start your adventure in
Embers Adrift: Getting Started
It does gather several useful threads created by the community and it's updated regularly
- To have an idea of our roadmap, please check out our
Work In Progress
And lastly, I've been compiling a little video to welcome you all, giving you some precious informations and Tips to play our game most comfortably!
If you need any help, you are welcome to tag me on Discord, or contact me in game!
Have a great weekend everyone!