Hello. Have some info for Weaponsmith, melee type, Maces here. Was able to get Weaponsmith to 30.10% before running out of leather strips and wood. Had about 1073 tin ore and 1147 copper ore between last weekend and this weekend. Few things has changed since Alpha weapons (
Weaponsmith
) but here are some Beta weapon info.
Also, the Bronze Mace, most of these are made with wood, one with Tin Pole. Will try to add Copper pole, Bronze Pole, Zink Pole and Brass Pole later. Although there is just too many different variation and combination to show.
Hopefully this will give an idea for some who wants to make it with said item type/materials.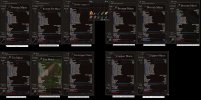 Would like to mention before I keep forgetting, a big thank you to Alice for giving me her wood, Archer giving me his bones & Killjoy for giving me his wood.
Last edited: