Administrator
Stormhaven Studios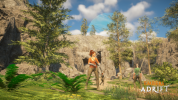 Hey friends!
This is a personal message to tell you that I will be missing for two weeks.
Therefor there will be no "Weekly Community Show" for those two weeks and I will not be present in game during our tests to organize groups, streaming or even just saying hello.
I'm going to Twitchcon Amsterdam to meet my community and other fellow streamer friends and ressource myself with some streaming motivation and ambition.
The weekend after that, I'm taking part of a LARP in Belgium, which is also the place where I met my partner 3 years ago. We are going to celebrate our 3 years anniversary there!
I'm also very lucky to receive the visit of my friend
@rivanarie
coming all the way from USA to spent those two weeks with me and sharing all those adventures!
I will be sharing some pictures in this thread to keep you up to date with my IRL adventures!
Take care of yourself and each others!
- Elloa