Administrator
Stormhaven Studios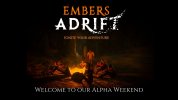 Heya friends!
Soon the very long and awaited THANKSGIVING weekend test will be here! It has almost become a tradition to have the servers open during the Thanksgiving weekend! It's a moment to enjoy the game together, relax, test out new things, make new friends and for us to gather your precious feedback.
The team has worked very hard to get several novelties, improvements and updates for this weekend! All information will be shared in the secrecy of our alpha forums. So keep an eye over there, and join our Discord server if you have not done so already!
Most of the team will be gone to celebrate with their family, but luckily for you, I'm European and we do not celebrate Thanksgiving over here. That means that I will have all of my time to play with you guys, answer your questions, and help you out. However I also need to work (stream) and sleep, so you can expect me online:
- FRI, after streaming.
- SAT & SUN, starting from the morning.
If you have not tested our game for a while, it will be the perfect occasion to see all the changes that have been implemented, and without boasting too much, I'm pretty sure you will all be pleasantly surprised!
I can not wait to start out new characters with you next week!
See you soon in the game!