Executive Producer
Stormhaven Studios
Welcome to the State of the Game August Newsletter for the upcoming MMORPG Embers Adrift​
Join us in our
discord server
to share your feedback & ideas, and to interact with the dev team & Community. Your previous login info will work for the forums; if you don't have a previous account,
please sign up!
Alpha backers can join us for testing on Wednesday nights 8pm Central.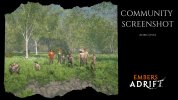 We have a lot of updates for you even though it's only been a month since our last newsletter. The Stormhaven team has been hard at work on making
Embers Adrift
an immersive, memorable, and fun MMORPG PvE experience for all.
Here are a few highlights of some of the new things we've accomplished over the last month:
WORLD
- We have nearly completed the launch zones - maybe you can guess what that means for the near future? Once the game is launched we will be engaging the community to help us decide what areas of the map we should expand into next. Community is a huge focus of ours and we want to involve the community in what is truly their game. Our post-launch goal is to implement new zones, quests, monsters, and treasure every few months as part of the ongoing dev cycle at no additional cost beyond the subscription fee and we want to include the community in this ongoing development. Join us on
discord
and in our
forums
to help expand the future gameplay of
Embers Adrift
.
- Our dungeons have really come together nicely! We are now in the process of implementing them throughout all the zones. I still get lost in these things. They are extremely fun to run and fight through. We are excited to see you all crawling their depths soon!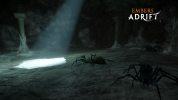 TECH
- We are very excited to announce that we've successfully made the transition to the High Definition Rendering Pipeline (HDRP) and maintained a solid level of performance! Our visuals were awesome before, but now they are truly breathtaking! The new lighting and shaders have really given the game an extra dimension of beauty. We are looking forward to utilizing a lot more of what HDRP can afford us to bring you an even more immersive and engaging world.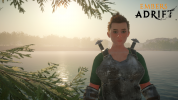 - We've also implemented new Dev Commands. This means we'll have a slew of tools at our disposal to hold live events for the community. What kind of events would you guys like to see? Share some stories and memories of events you've experienced in the past.
EQUIPMENT
- Crafting continues to grow as we've been refining the system and implementing new crafting recipes. We are excited to let everyone see what's been worked on.
- New armor for our exiles is close at hand along with character equipment being developed in our art department as well and I gotta say it's all looking awesome! We can't wait for you to come and test your mettle against the hardened exiles arrayed in some epic equipment designs. Our equipment system is shaping up to be fairly unique in the MMO space so keep an eye out for more news of this to come.
TEAM NEWS
- We are excited to announce that we've hired a new game designer to help bear the load of content implementation that is ramping up rapidly. We've been mostly focused on systems and now that we are shifting our focus to content we needed an extra pair of hands. We've brought on someone who has been a part of our testing community for a long time and he is excited to dive in and help us out with implementation. We are proud to draw help from someone in our community who we know and trust, who understands the product and it's design goals, and who has been testing the game right along side us for a long time.
FUNDING SUCCESS
- Our private funding round is being closed as we've successfully raised enough to market and launch the game. While our budget is still small we look forward to bringing you a finished product that we can be proud of. Thank you to all our investors and previous backers for helping this dream become a reality for all.
COMING SOON
- Please stay tuned to our
twitter
account,
discord server
and our website
forums
for more exciting news and
an announcement coming soon!
There is much more to share so please come visit us in our
discord server
and our website
forums
to catch whispers of more hidden knowledge.
If you've pre-ordered a Stormhaven Studios product before you have alpha testing access to
Embers Adrift
and we'd love to see you in game and in our discord on Wednesday nights at 8pm Central. Your account has been carried over to our new website and product where you can download the client from the account page after logging in.
Happy gaming,
John "Drindin" Gust
Last edited: