Codemaster
Stormhaven Studios
If you are having trouble running the patcher or game please see the troubleshooting section below.
Downloading the patcher
Before you can run the game you first have to download the patcher. This application keeps the game up to date. The link can be found under
your account
page: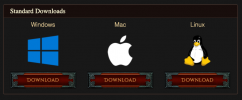 ​
Each platform download is an archive of the patcher application (zip, dmg, tar.gz) that should come in under 50mb. For windows and linux we recommend that you create a new folder and extract the contents of the archive into that folder. For Mac you can simply drag the patcher application to the directory of your choice.
Running the patcher
With the patcher application extracted you you can run the
Embers Adrift Launcher
executable via double clicking on it (you may need to set executable permissions on linux).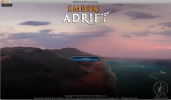 ​
Click the "Update" button which will start the download of the actual game client.
Launching the game
Once the download has completed the "Update" should turn into "Launch". At which point you can click it to launch the actual game client in a new window. This should bring you to a login screen; upon clicking login you will need to
use the same username and password as you use to login to these forums
.
If you get stuck at "Logging in" for a period of time then you may have to wait 2 minutes and try again.
Troubleshooting
If something goes wrong while following the above steps we will need to see some log files. For the patcher your log files are located in one of these directories:
windows: C:\Users\<username>\AppData\LocalLow\Stormhaven Studios\Embers Adrift Launcher\output_log.txt
macOS: /Users/<username>/Library/Logs/Unity/Player.log
linux: /home/<username>/.config/unity3d/Stormhaven Studios/Embers Adrift Launcher/Player.log
When the client is launched however, a log file should be created in the respective directories:
windows: <launcher directory>\client\live\embersadrift.log
macOS: <launcher directory>/Embers Adrift Launcher.app/client/live/embersadrift.log
linux: <launcher directory>/client/live/embersadrift.log
If these files are not getting created, then the application is not launching properly.
If you are having issues launching the patcher or the client then your anti-virus may be falsely identifying our executables as malicious. If this is happening we recommend you whitelist the entire Embers Adrift patcher directory.
When launching the game if you encounter an error stating that you are missing either
MSVCP140.dll or VCRUNTIME140.dll
then you will need to install the latest
Microsoft Visual C++ Redistributable
package. For 64bit systems you will want
this link
.
We do not yet have official system requirements. Our game has been known to run on a machine with these specs on low settings:
64bit operating system (we do not offer 32 bit clients)
intel i5 or equivalent
16gb of ram or greater
8gb of free hard drive space (ssd preferred)
nvidia 1060 or equivalent. The graphics card must support compute shaders (DX11, macOS Metal, and Vulkan).
You may be able to get away with lower specs but they have not been tested. Also note that these recommendations will likely increase as the game develops.
Last edited: