Here is a list of commands available in game
UPDATE!
BELOW I HAVE INCLUDED SCREENSHOTS OF THE /HELP OR /LIST COMMAND IN GAME WHICH PROVIDES YOU EVERY POSSIBLE /COMMAND AND CHAT SHORTCUT
/who
- shows who is in that zone
/who all
- shows everyone logged into the game and their current zone
/time
- shows the date/time in game as well as your local date/time
This is now attached to your chat box it appears as a globe icon hover over it to see the time, date, season in game. Does not show your local time.
/report
- opens a text window for you to describe the broken thing you found and report it to the devs. also logs the location data automatically with your report so make sure you use it WHERE the broken thing is or where it happened.
/stuck
- for use when your character becomes stuck, it will move you over just a lil bit, hopefully it gets you unstuck.
/played
- tells you how much time you have played that character
/roll
- rolls the dice and generates a random 1-100 number
/Emote
-
makes text like this for role play
/listobjectives -
Since we do not have a quest log yet use this to see your quest objectives.
/switchinstance # - Switches you to a specific instance IF one is available. MUST BE USED AT AN EMBER RING.
You may also use commands to switch where you would like to chat
/ooc
- zone chat
/global
- all zones chat (temporary)
/local
- like zone chat but only players near you can see it
/group
- chat with your group
/tell
- private chat to another player (like this
/tell Alice)
press R
to reply to your last incoming tell
no / required
.
does not work if you have the text bar active.

/yell
- puts text in red caps in zone chat.
More chat shortcuts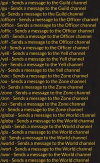 Last edited: