Administrator
Stormhaven Studios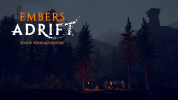 Hey friends!
This week we will be discussing the importance of light and darkness in Embers Adrift. We are not speaking metaphorically here, nor an artistic point of view. Though those two aspects will enter into the discussion. The main focus however, is GAMEPLAY!
Those of you who have taken part in our Alpha tests, or those of you that have seen our old videos, are already aware that night and day will have impactful importance in our game. Night is much more than an atmospheric cosmetic feature. Adventuring at night will be vastly different from adventuring during the day time. We want you to be scared of the sun setting if you are lost in the wild far away from the safety of the road. We want you to be scared, because it's dark and you may lose your way, you may lose track of your friends' locations, or your torch may run out. And in the night, new dangers are roaming.
With our new enhanced graphics the atmosphere of the day is even more colourful and peaceful than before. Our lands have a softness that inspires a relaxing feeling, and the sun's rays are reassuring.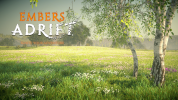 We want to break that feeling of safety as the night is falling, and we want the adventurers to make a conscious choice whether they continue to venture forth, or if they stay within the safety of the outposts. Note that about a full 24 hours in game is 113 real-world minutes and the dark of night lasts roughly 40 minutes.
At night, the lands are truly dark, unless bathed in the moonlight. Players will need torches or lanterns to find their way as the lack of mini map or a compass will not allow them to artificially find their way. They will have to observe the land, and when the night is falling, the land looks much different.
Navigating is the first challenge to face during the night and is not something to underestimate. As this may bring unexpected adventures and mishaps. The unprepared group may find themselves in trouble, separated and struggling against creatures they did not expect to meet. A fallen player will need to recover their bag and inventory, and without the daylight this will bring its own difficulty, though we have added features to help you locate your friends or your bag if you are nearby.
All those challenges are brought by the simple addition of darkness. With obscure darkness everything becomes more challenging and dangerous. This is meant to affect the way players play the game, make their decisions, and prepare themselves for their adventures.
What is your take on this? Is it something you are excited about, or suspicious of? Share with us your feelings concerning the importance of light and darkness in our game.