Bugs/Issues
Wall near Wolf Den in Meadows had a weird collision border that probably needs to be tweaked, I should have /reported but forgot: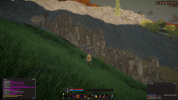 Loot timers might need a tweak somehow, there were a number of times I was trying to examine loot to compare to my current gear and the timer dropped before I had a chance to finish. Maybe make it so that loot timers pause while the group is in combat, or add an "Extra time" button for those situations it's needed? I assume side-by-side loot vs equipped gear display option is on the list for down the road implementation.
Provisioners focusing on potions seem to get the short stick early game since they have to spend 20cp for a single bottle, which is not small amount right now. Maybe have them start with 10-20 unvendorable bottles to get some early help?
Have other people reported back any issues with the new reagent drop rate? I feel like it's too much too often now for exile tar flasks, but I did spend almost all my time fighting just exiles. I have over 300+ tar flasks now from the weekend of playing. I felt like somewhere between the current rate and the previous rates would be ideal, but my perception may be skewed due to the sheer volume of exiles I fought.
Gameplay feedback
I expressed some concerns last week that levelling might be a little too fast but it felt okay this weekend. Although, part of the reason is I spent a lot of my time with people 3-4 levels lower than me while group so my exp was a trickle even with 4 hours at the top of exile fort. Definitely will be keeping my eyes on this, but I was less worried I was growing too fast this weekend in roughly the same amount of time spent exping.
Are Nameds locational restricted at all, or are they still possible to spawn anywhere in a zone? I'm mainly thinking about Nameds that make sense to be somewhere in a location such as the Exile Fort behind Ravenrock, Wolf Den, Bear Den, Exile Fort in Meadows, etc. Spent 4+ hours crawling and clearing the upper Exile fort behind Ravenrock and not a single named popped, and only one quasi-named. Literal hundreds of exiles were killed and not a single named.
Marshall still feels good! Managed to get to level 14 and already having to make LAS decisions with that one extra skill and what to replace. Definitely going to force people to make decisions as long as all skills are useful depending on group comp and role.
Is Halt's root supposed to break on any damage or is there chance for it to not break? Several times I'd Halt a group, Threatening Strike on one of the halted mobs to pull it, and it wouldn't follow. Wasn't an archer. Also happened trying to auto-attack rooted mobs, or throwing kunai at them. Amusingly, Pursuit was the one ability that would guarantee unroot a mob to have them follow.
Halt new animation and icons whennnnnn?! Still having issues with people not noticing a rooted mob. can we just get a Tree icon over them for now?!
The rabbits in NNH have become a popular pull spot due to the total lack of social aggro, even with "aggressive quillbacks" abound. Probably should make the rabbits comparable to the rats. Social aggro in general needs a tweak; had far too many pulls in Exile fort where I'd pull a mob that would run right past another mob and the other mob wouldn't aggro. Sometimes even bumping into each other.
General feel is that mobs are somewhat tough but could be tougher. I wouldn't object to orange mobs being made a tad more deadly. I think improved social aggro as mentioned above may naturally make the world more dangerous as well.
It would really help to have the ability to read and understand what the bonuses to crafted gear provide in terms of net gains vs. dropped gear. Is my crafted tin sword with +7 PEN doing more damage than a statless polished tin sword that has a higher base dps over the course of a fight? We don't want our hands held, but it would help to understand how to identify the gains/losses when comparing weapons, especially if we're trying to test that gear is doing what SHS wants it to do.