Administrator
Stormhaven Studios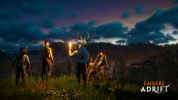 Hey friends!
All characters and all progress are being reset tonight! This is the WIPE you have been waiting for for several weeks now, that will bring us a revamped crafting and equipment progression! It is also one of the last wipes before the release of the game, maybe even the very last!
So get excited everyone! It is time to start new and fresh characters, set up groups for leveling, create guilds that will last more than two weekends and explore all the new things that have been added to the game since our last wipe in May!
If it is the first time you are joining the game, or the first time since a long time, be sure to:
To celebrate the new cycle, we will have a very special show on Twitch right after the
Weekly Community Show
on
my channel
.
SQUAD STREAM with MorrolanTV, Panth, myself & Drindin + 2 guests at noon CDT /7pm CEST
So if you can't get in the game right when the weekend starts, you can at least enjoy a 3 screens Stream! More information about this special event soon!!
So, now the important question: what will you be playing as your main character during this cycle?