Administrator
Stormhaven Studios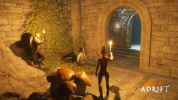 FOCUSED DISCUSSION: EQUIPMENTS (Crafted & dropped)
Hello friends!
This discussion is aimed to gather in one single thread all wishes and thoughts related to EQUIPMENTS.
I would like to welcome in this serie of discussions both Alpha/Beta testers that play our game regularly, but also everyone else that have some opinions regarding the subject.
Please, try to keep your answers concise and precise, to make it easier for our team to follow.
DISCLAIMER
Equipment is in an iteration process. Many changes have happened during the last weeks, and more may to come. Your opinion on the subject and your feedback very much matter.
Our intention:
Crafter feels useful. Crafting is meaningful and require effort
Finding loot is exciting. Players are happy to hunt for equipment.
Hunting and finding equipment is a satisfying experience that requires players to cooperate, explore and venture the world.
Currently: basic crafted item < dropped item < imbued crafted item < rare mob item
LET's SPEAK
CRAFTED ITEMS: From crafters and non crafters point of view, what do you think on the matter. What makes crafting equipment valuable. How does it not interfere with the fun of finding a dropped item?
DROPPED ITEMS: From crafters and non crafters point of view. How is it exciting to find new items? What makes it a boring, unexciting aspect of the game?
BIND OR NOT BIND: What are the pro and con of BOE/BOD items? What are the pro and con on NOT having a BOE/BOD system. What system can be put in place instead to avoid a devaluation of the items over time.
Thank you for your participation.
Last edited: