Administrator
Stormhaven Studios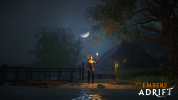 FOCUSED DISCUSSION: DARKNESS
Hello friends!
This discussion is aimed to gather in one single thread all wishes and thoughts related to DARKNESS
I would like to welcome in this serie of discussions both Alpha/Beta testers that play our game regularly, but also everyone else that have some opinions regarding the subject.
Please, try to keep your answers concise and precise, to make it easier for our team to follow.
DISCLAIMER
Darkness as it is currently in game is going to be changed. Do not take the current Darkness as the final product in our game.
It is currently being discussed among the team, and requiere the NEW SKYBOX tech we are waiting for. Then we can tweak and tune the new darkness to make it fitting our wildest wishes.
Our intention:
Darkness is atmospheric and immersive
Darkness is an enjoyable feature for a majority of our players.
Darkness respect your physical eyes sight
Darkness will vary depending places in the world. Caves & Dungeons will stay very dark, enforcing players to make good uses of torches. Some places in the world, like forest, or canyons will be darker than open spaces.
LET'S SPEAK
DARKNESS. Does it matter to you?
IMMERSION How to make Darkness a meaningful experience?
TORCHES AND LIGHT SOURCES How to ensure that torches and ground torches and other light source in the game are a meaningful aspect of your adventure.
COMFORT How and when Darkness become an uncomfortable experience (eyes sight and /or moral)? How to ensure making it something fun, enjoyable and part of the adventure
Thank you for your participation.