I really enjoy the game, thanks for the great work!
Here is some feedback:
1. This weekend I found it much harder to right-click on things such as merchants, crafting stations and corpses. Sometimes it worked when facing them straight on, but many times that didn't work either until after a few tries.
2. At level 2 I tried to zone to the North area but nothing happened when clicking the door. I heard the zone is for level 6+, but I suggest there to be a message like "Can't zone, level to low".
3. Front legs on animals are still weird for me. See picture. The screenshot is from January but you get the idea. Is this seen by everyone, or is it possibly a Mac client issue?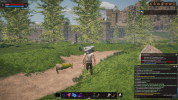 4. Performance: Feels like its getting better and better. Although when there are many players or humanoids it often gets very slow (<1 FPS) especially when turning around.
5. Fences around the main ember ring in the South zone: I think the area feels a bit "closed" with all fences around it, making it a bit frustrating to move into the camp. Especially with low FPS. It would be nice with larger openings in the fences since this is the main area where most players hang out in this zone.
6. It looks like the launcher window is using CPU and GPU during gameplay, is this intended (e.g. background processing)? If not, it would be good if the launcher could pause during gameplay.

7. Magic: I know this is not in the vision of the game, I would just like to give feedback that I would like the game even more if there was player magic. Practically though, the support bandaging is already "magic" but not called "magic".
8. Class diversity: It would be fun with more unique features for each subclass. However my max level is only 9, this idea may already be implemented in higher levels. Would be fun even with smaller utilities that are unique to a sub class, even only "for fun" utilities (e.g. wardens could start a campfire when outdoors, like a "free ground torch" or that it requires a small amount of wood).
Client: Macbook Air M1 8GB with 8 GPU cores
Last edited: