Suggestions:
- Built in quivers. Currently you your inventory can become a mess with many different types of arrows. I can have (starter)(crafted)(looted)(another crafted) etc. But only have one type at a time on my character. This means I could have [22] of one arrow because I looted it equipped, run out and drag over the [7] crafted ones I have, run out and repeat. My suggestion for a fix is a dropdown slot where your arrows/bolts go. This will allow you to equip up to 3 types of arrows/bolts. The game will go in order and use the top slot and work its way down until all 3 slots are empty. This would remove of giving up inventory space to random arrow types since non are stackable.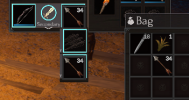 - Recipe Merchant Tabs. Scrolling through large lists of recipes can be very difficult. My solution to lessen this UI mess is having them sorted into the progression type by tabs. Along with a search function to quickly search for a certain type or armor type.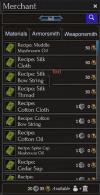 - Group controls. Nearly every group I am in, someone is asking how to leave a group. Having a simple "leave group" icon not the group bar interface will make the UX experience better.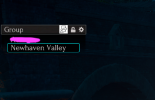 - Login noticaton. Currently when you log into the game you will see the pop-up message. It is something you manual have to click away. Hitting Enter to login + enter again to choose character leaves you in the game with the pop-up that you then have to mouse over and click away. This should not appear every time I log in, unless the Devs have VERY important information that needs to be pushed to players. Having a "welcome" every time I log in 5 times a day that needs to be clicked away is kind of useless.

- Right-Click Character panel. This panel should [LOCK] in place where I right-clicked. It currently follows the character that you right-clicked on. This results in it moving around and bouncing every even when they are just idling. It makes it IMPOSSIBLE for me to ever use it to quickly trade or interact with someone. I will then need to left click on them, then right-click on their portrait. Adds extra steps and is again a poor UX experience. Simply having the highlighted green panel in the image lock in place where I clicked with fix this.

- Chat tabs. They will just display Chat-(last types channel) in them. This makes it impossible to orangazie and have a clear view of which tabs you have filtered. We should be able to rename each tab permanently. One for [Guild] [LFG] [Trade] etc to better organize and improve the chat experience overall. The [Chat - X] Should be able to be changed to [Guild] or [General].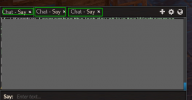 Feedback:
- Zero impacts on performance regardless of location or number of players in my area.
- One lock-up (reported).
- Updating went smoothly.
- Instance switching went smoothly.
- Quick load times.
- Leaving feels like a good pace for my own tastes, not to quick at lower levels that you can easily out level the area by just grinding for a bit.
- Quests have been a lot of fun and a great way to learn the lore.
- Sometimes when talking to NPC with multiple trees, you can hit a dead end but not read everything they have to offer. This results in having to close the chat and re-talk to them again. Having a [Start over] instead of a blank chat box could be helpful.
Last edited: