Administrator
Stormhaven Studios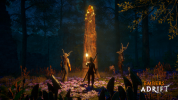 You are invited to participate to our first COMMUNITY EVENT in game
WORLD TOUR - let's catch all ember monoliths​
Saturday 18 june at 2pm CDT - 9pm CEST
Live on Twitch at
Elloawendy
- all levels and new players welcome
A very simple event: alike the Expedition to Dryfoot organised a few weeks back, we will travel together, cross all zones to find all ember monoliths, while having fun on the way!
- Gathering in North Newhaven, at the Wall
- Get your BOOST POTION, and some equipment to have your character ready at lvl 30
- Setting up groups
- Cortege leave 30 min later. Hopefully we will have several groups going!
- We will follow find the ember monolith in that order: North Newhaven, Meadowlands, Redshore, Dryfoot. We will travel offpath sometimes, so follow the guide!
- Massive group screenshot at every monolith
I hope to see a lot of you joining this event!
Check out the event on
Discord