Below is a summary of benchmark results comparing three systems with the resolution scaling feature. This was testing using the code on the weekend 19-21st, will test again with the new performance setting in the recent patch (yesterday).
- MacBook Air M1 (8 GB unified memory, 8 GPU version)
- Desktop PC with Nvidia 3060 Ti (16+8 GB)
- Laptop PC with Nvidia 3050 Ti (16+4GB)
It seems that the lower amount of memory in the system the greater the benefit (makes sense). Particularly the 8 GB Macbook Air is getting a huge benefit.
Note regarding charts 2a/2b and the 3060 Ti result: In that test, the frame rate was 75 regardless of the changes I made. Even with no frame rate limiter and the monitor refresh rate is 100Hz.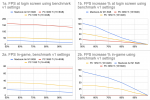 Tests were done having the Options window opened (i.e. didn't close it after each setting).
In-game location: NE Newhaven Valley, out in the woods with no players. STANDING STILL! Didn't record moving FPS. Horizon at ca 50% of the screen
Benchmark settings version 1:
All settings on medium
Resolution 1440x900
SMMA anti aliasing
15 View distance
0% shadow distance
100% grass distance
All checkboxes checked in the lower section
Settings "real life 3060 Ti"
All settings on medium
Resolution 3440x1440
No anti aliasing
77% View distance
80% Shadow distance
100% Grass distance
All checkboxes except "Grass shadows" checked in the lower section
Settings "real world M1" (8GB, 8 GPU version)
All settings on low
Resolution 1440x900
No anti-aliasing
15 View distance
0% shadow distance
100% grass distance
No checkboxes checked in lower section